I had so much fun making my Thanksgiving charcuterie board, that I decided to repeat the process for Christmas. You can put together this board in minutes with just a little shopping (no baking required)! It also doubles as the centerpiece of your Christmas children's table, which was perfect for me, because I couldn't decide on a centerpiece idea. Here's how to make my Christmas charcuterie board for kids.
SUPPLIES
Most of my desserts came from Sprouts. (The beauty of the charcuterie board is that while you certainly could make little treats for it, you can just buy everything you need.)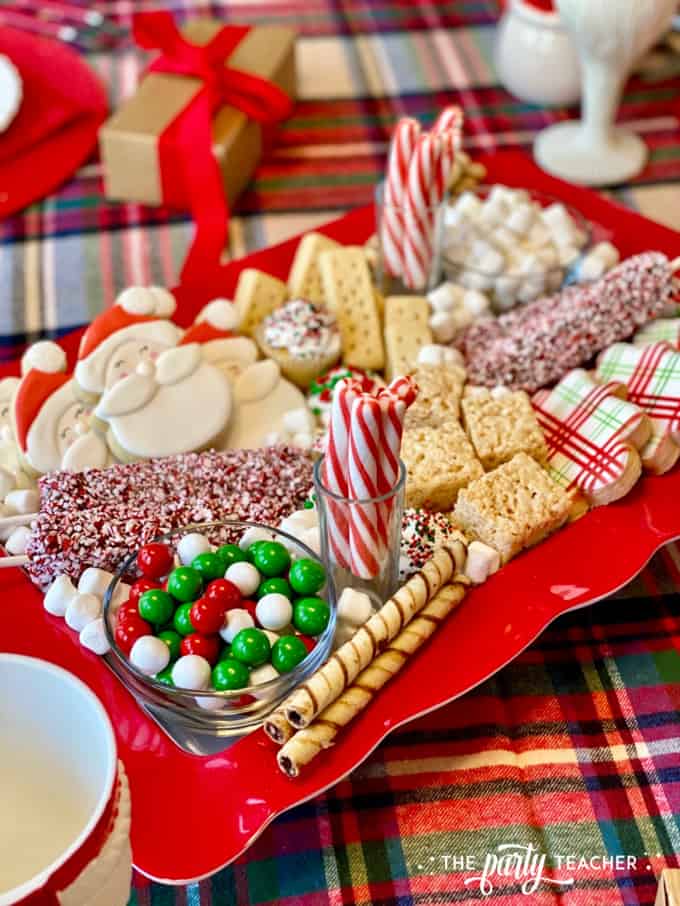 Platter (mine is 19 inches long x 12 inches wide)
Santa cookies and plaid cookies by Sugar Mama Sheryl
Mint candies
Mini marshmallows
Chocolate and peppermint coated marshmallow pops (Tuesday Morning)
Pirouline wafers
Mini vanilla cupcakes that I rolled in sprinkles
Peppermint sticks
Shortbread cookies
Brown butter Rice Krispies Treats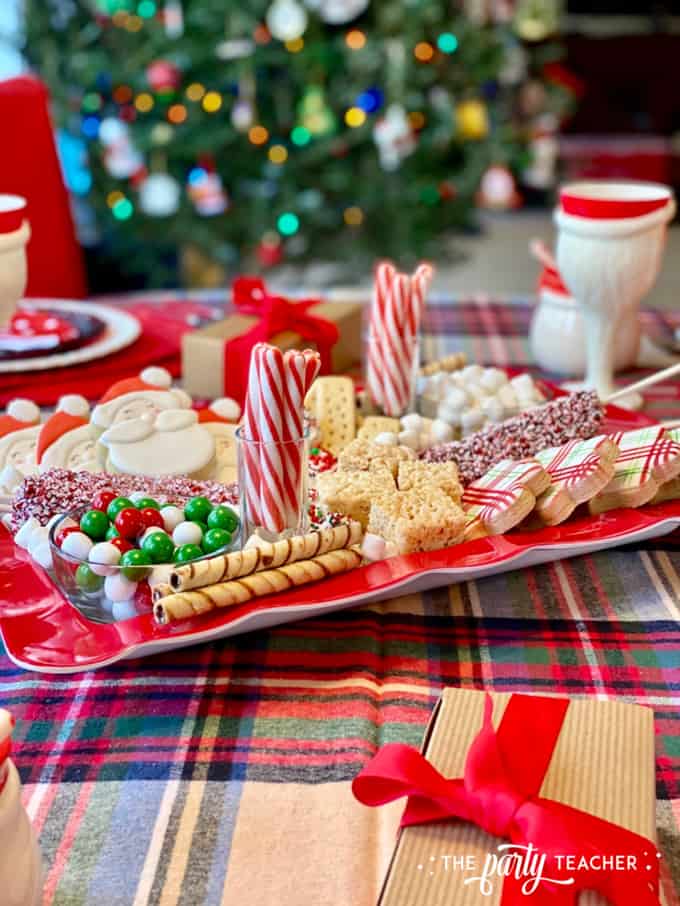 When you choose your treats, it's helpful to have:
A variety of sizes and shapes, including smaller items and long narrow options
Desserts that are sturdy and won't easily crumble. This will make it easier to pile your treats (and keep your board from looking flat)
A variety of flavors and colors
Colors that illustrate your party theme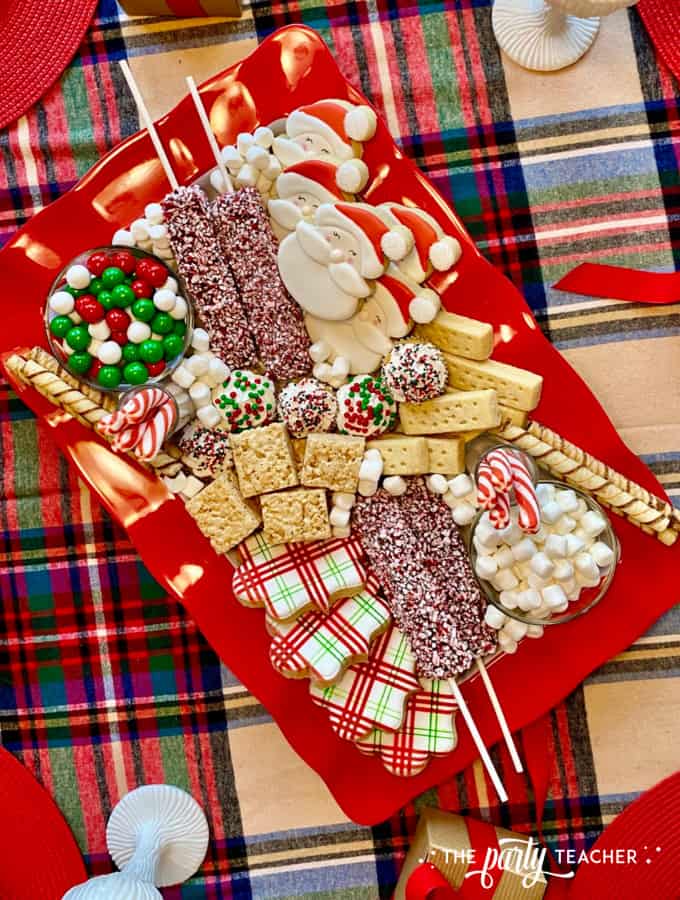 INSTRUCTIONS
1 – Start by setting the table where you'll display your board. Once you have all the goodies set, you won't want to try to move the board. I picked my kitchen table, and set it to be the children's table for Christmas. The charcuterie board is doing double-duty as my centerpiece.
2 – Add shallow bowls for the candies and marshmallows, and distance the bowls. I put mine at separate corners of the board.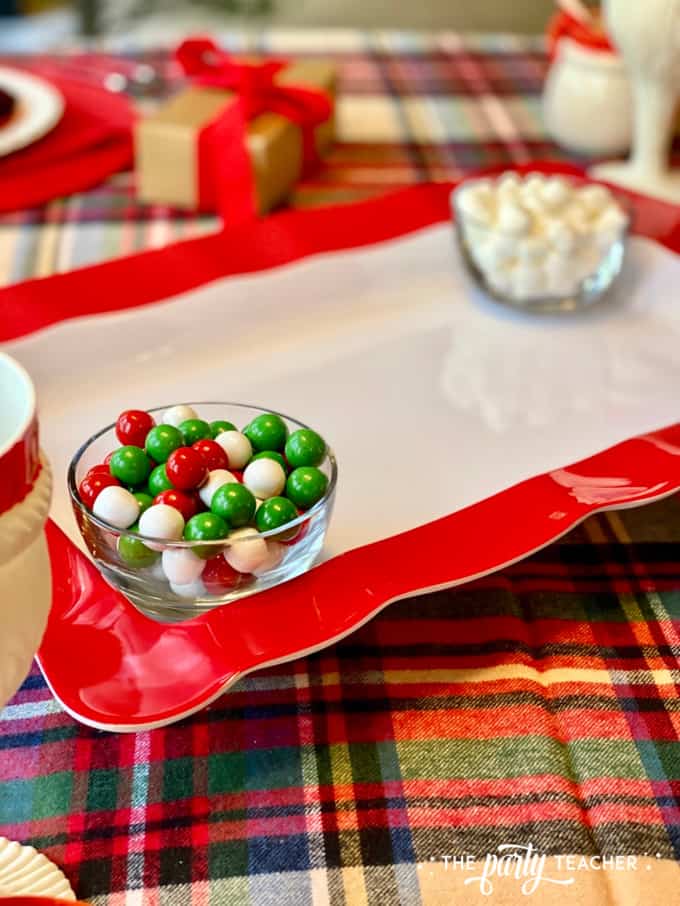 3 – Add cupcakes toward the middle of the board, and create some vertical interest by arranging them in a snake-y "S" shape.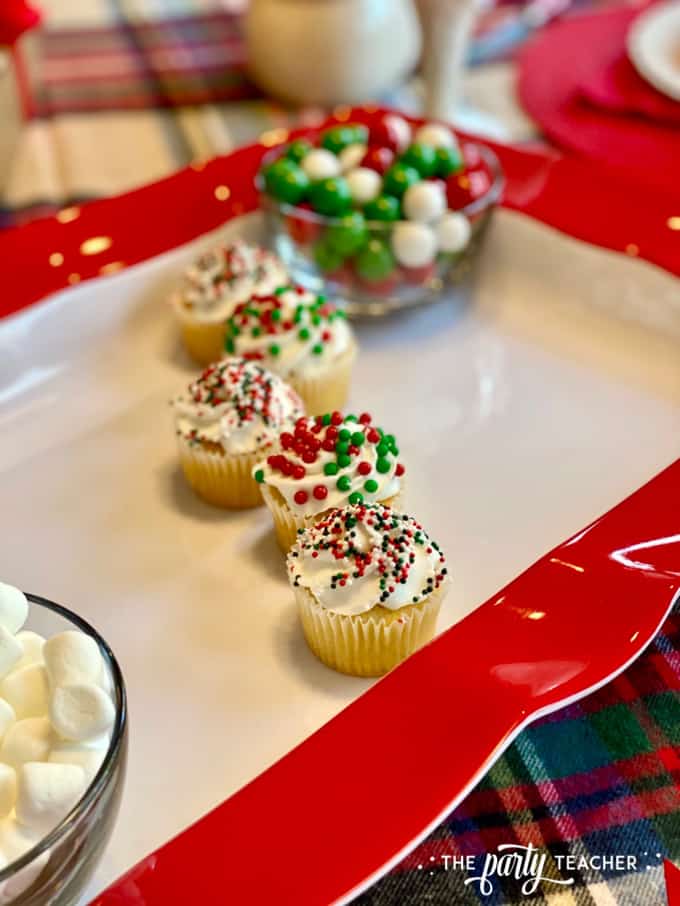 4 – Since my platter is fairly deep, I wanted to make sure I had some vertical interest, so I added peppermint sticks in dessert shot glasses. I put those next to the candy bowls.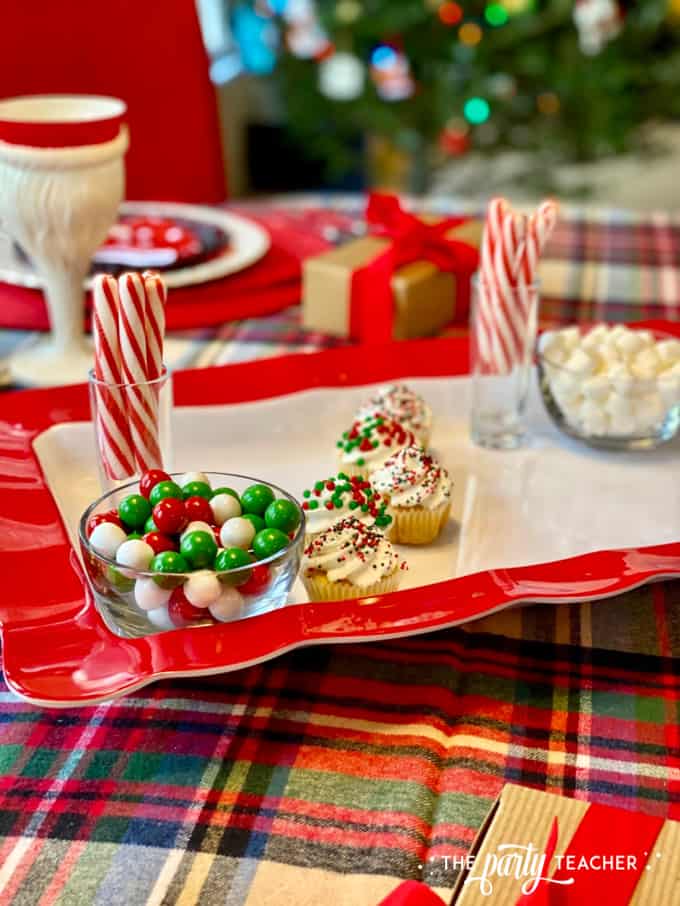 5 – In the corners opposite the candy bowls, add the sugar cookies. Don't be afraid to stack your treats on each other, as long as they don't wind up squished. These cookies are from my friend Sugar Mama Sheryl and were so tasty and obviously as cute as can be.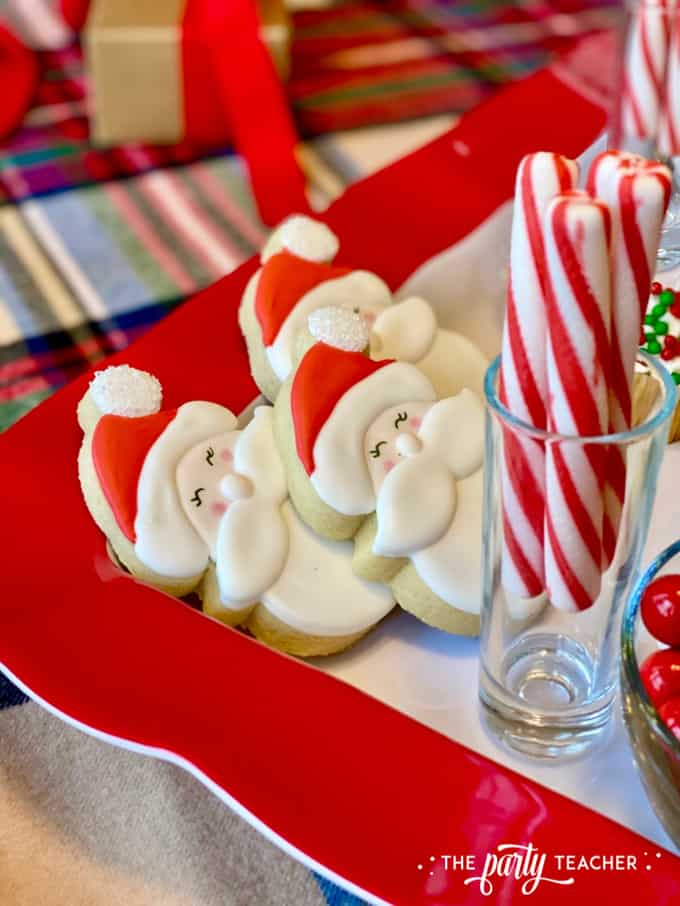 6 – Use the marshmallow pops to anchor the cookies in place. If you need to move things around, go for it. You can see that I shifted one of the glasses of peppermint sticks.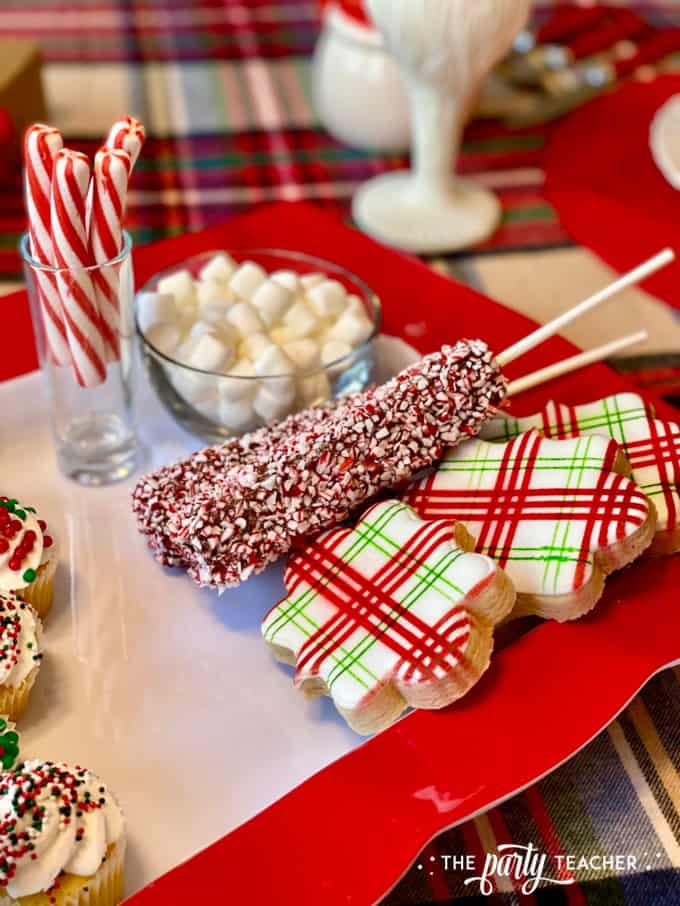 7 – At this point, you've filled all four corners of the board, so it's time to fill in the remaining spaces. It helps to have narrow or small treats. I used shortboard cookies and Rice Krispies Treats cut into small squares. (Milano cookies are also good for this purpose.)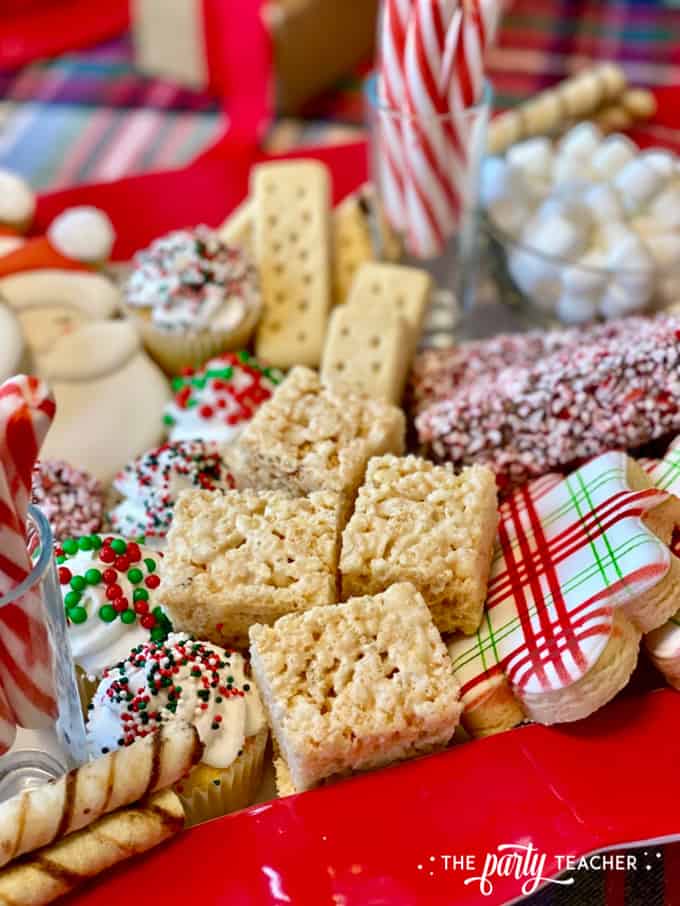 8 – Add Pirouline wafers to opposite edges of the board. If you work in with offset symmetry in mind, your board will look pulled together instead of jumbled.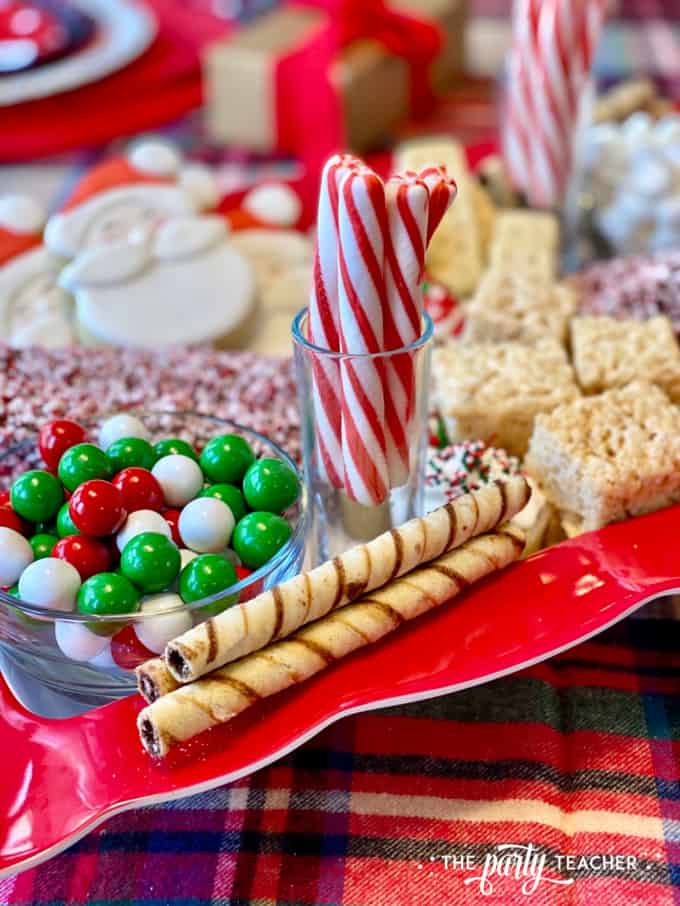 9 – Fill in any small gaps with more mini marshmallows. (Coconut would also be cute and snow-like on a winter board.)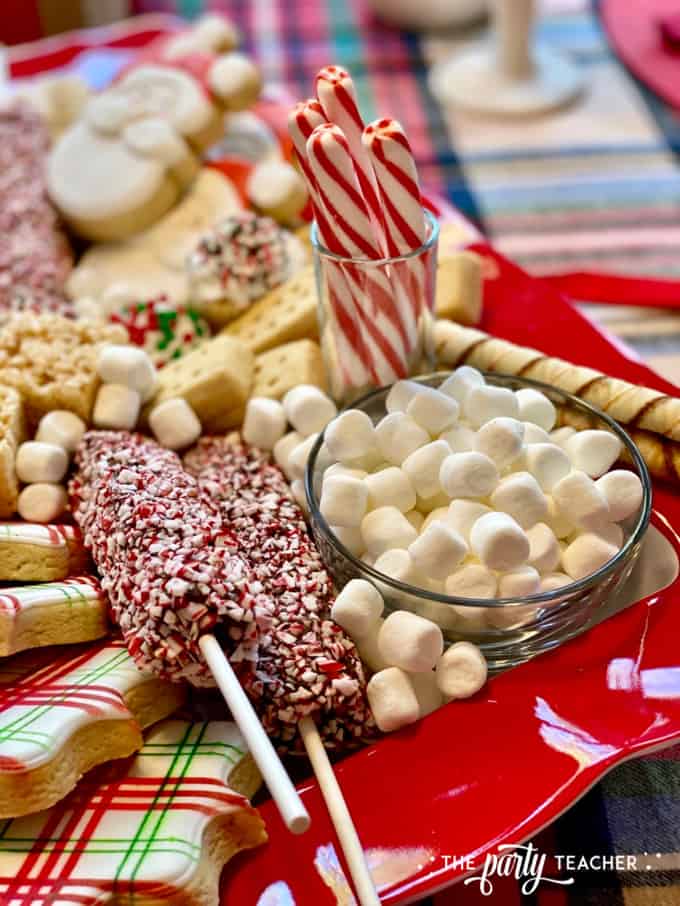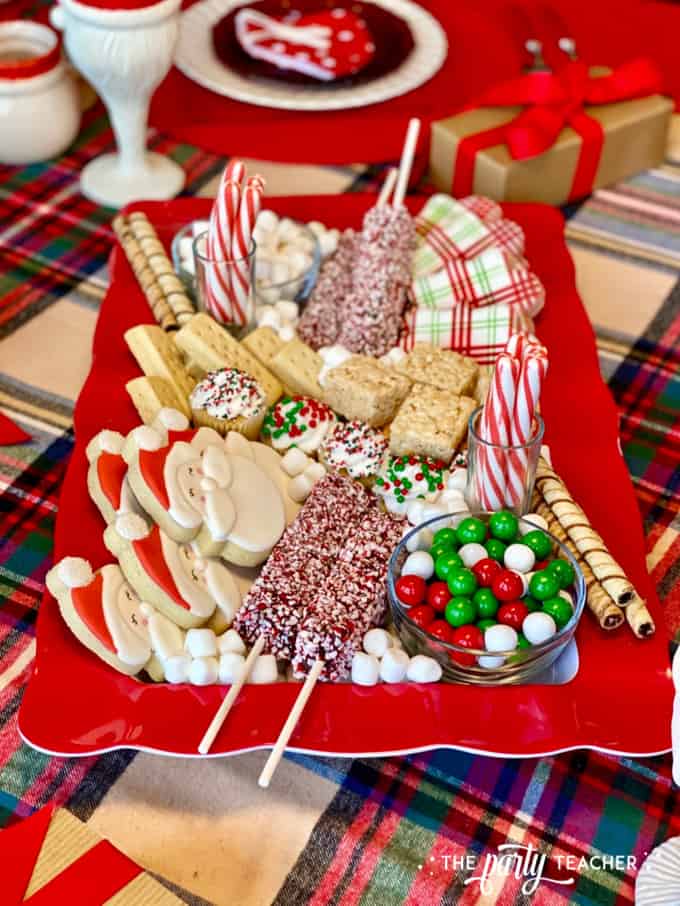 To see more details of the Christmas children's table, jump back to this post.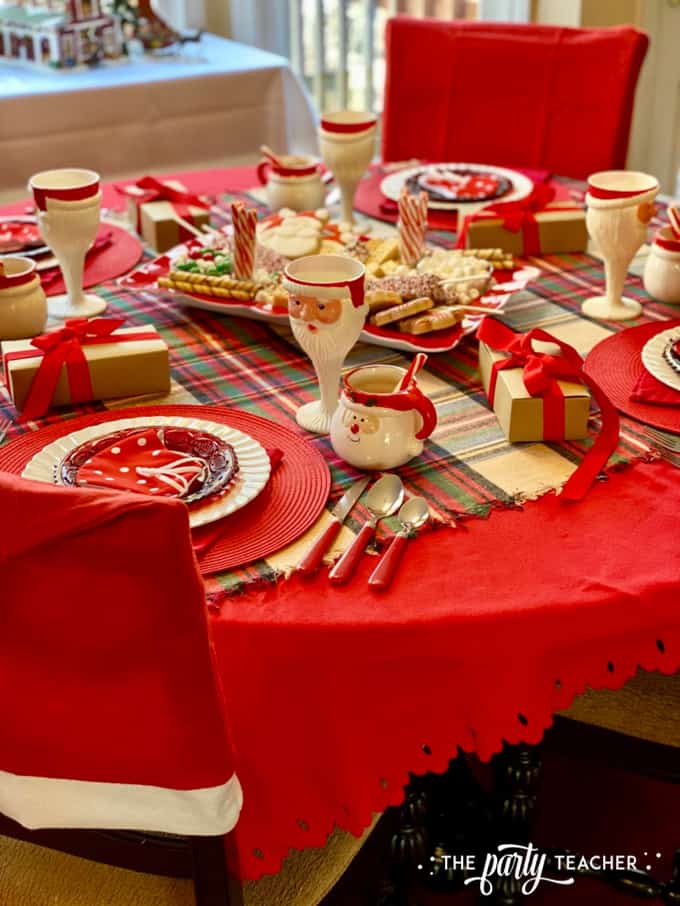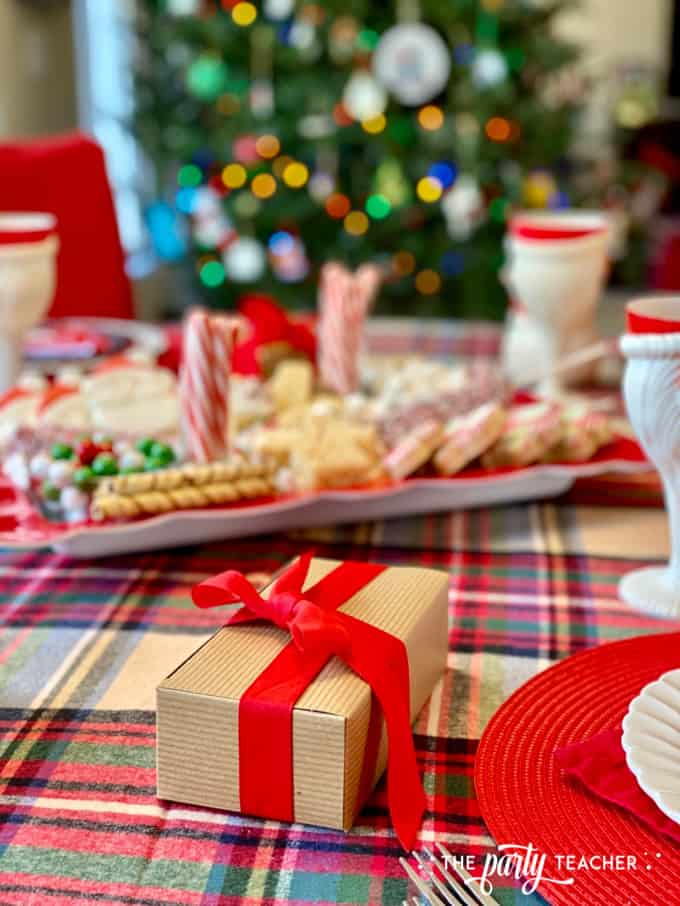 Merry Christmas to you! I hope even if you're having a small, family only Christmas this year, that you take a moment to decorate for yourself and keep up the traditions you can. You deserve the beautiful and special touches of this season, even if only your family will see the results! I know we're finding the decorations uplifting.
Sometimes, this season is just too much. We've actually done decorating more than other years because so many other activities have fallen away. This year (strangely?) feels a little more manageable.
That being said, I'm still organizing everything using my Christmas Season Planner. You can grab your copy for just $9.99 and use it year after year. It's not too late because the planner is undated, so you're never behind.
A version of this post originally appeared on Design Dazzle.