My girls and all their friends have hit the American Girl Doll age. I mean, it's a big event when the catalog arrives in the mail. So when I found this 1930s-style American Girl Doll party from Calli of Make It Do, I had to share it with you. As you know by now, party activities are as important to me as beautiful styling, and this party is really notable for the pitch-perfect activities.


Calli made these invitations, which are designed to look like a handkerchief – love that! She also made the envelope, and you can find her tutorial here. I suppose girls of Kit and Ruthie's era would normally carry a hanky. I bought my girls old-fashioned looking hankies a few years ago and they love them and know to keep them in their purses. So sweet!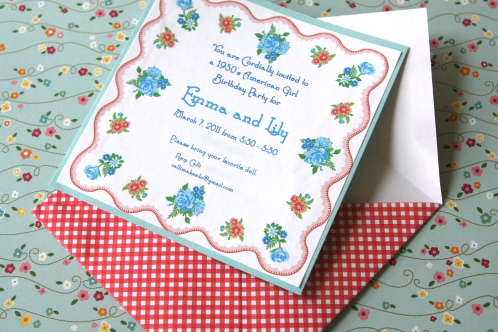 The party was held at Calli's home (and you know I also love an at-home party). She repeated the gingham and calico elements throughout her decor, including on her dessert table and as bunting. Her girls even got to help sew the bunting from these charming fabrics — you know they must have been so proud of themselves. (And, sewing. Another great lesson from the 30s. Calli had it going on.)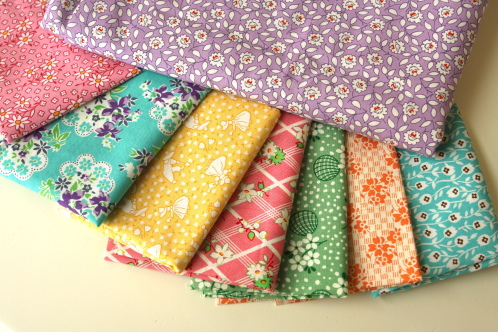 One party activity was to sign autograph books that Calli made. I had an autograph book in elementary school. It's still around here somewhere, with my little friends' school photos pasted in and their wobbly signatures. Fritz and Missy. Those were the days. But I digress.
Calli made the autograph books and says, "It was an easy activity that required vintage looking cardstock (from the City Park Collection from American Crafts), white printer paper, and matching narrow ribbon. I used a hole punch, paper cutter and a bone folder for tools. It took me less than an hour to whip up 10 books, one for each girl. They couldn't have been less expensive, easier to make… or sweeter when done." Really inspired. Best of all, the books also doubled as a party favor, and I hope, as a forever keepsake.
Other party activities included playing 1930s games like Drop the Handkerchief, which I hadn't heard of, but it sounds like playing Duck, Duck, Goose while singing the "a tisket, a tasket" song. All you need is a hanky. I swear those traditional party games really stand the test of time, and of course, they are new to our kids.
Calli says they also played "Clothes Pin Drop into Mason jars. Hold the clothespin to your nose, without bending over and try to drop it into the mason jar sitting on the floor." It sounds a bit like the "sugar cube relay/drop the sugar cube into a tea pot" game that we played at our Vintage Tea Party, and so I'm sure Calli's guests loved the game.
To make their dolls feel like part of the action, the girls made doll-size party hats for Kit, Ruthie, etc. Calli even has a doll party hat template for you.
After games, the girls had tea with mini cupcakes, chocolate mint brownies, eclairs, strawberries and raspberry lemonade.
The party favors were the autograph books, jacks, a paper fan, and taffy. To package the favors, Calli returned to her gingham and calico paper to embellish a white lunch sack and finished it with a clothespin.
Thanks to Calli for letting me share her party with you. To see more photos from her sweet party, click 1930s American Girl Party.